Description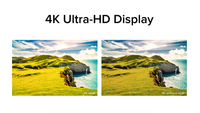 Vivid Picture Engine
This TV features a 4K Ultra HD Display Panel. It is even supported by 10-bit HDR. What's more, the Vivid Picture Engine enables the display to offer accurate and vibrant colours. Thereby, it can re-create images that look life-like. The displayed images also have high-contrast and vivid luminance. Even the colours are rendered clearly. As a result, your viewing experience will be highly pleasurable.
PatchWall 3.0
You can access the enormous library that features 4K content. Also, the content in PatchWall 3.0 has been streamlined smartly. So, you can find, access, and watch exciting content directly on the homepage. You can access movies, documentaries, and a lot more from its 20+ content partners like Netflix, YouTube, Zee5, Amazon Prime Video, and more. It also comes with animations, the one-click play feature. Also, you can check for more things under the hood improvements. It also features a Kids Mode, a Smart Curation feature. You can access these lists on apps such as Disney+ Hotstar, Zee5, and more. The Kids Mode also contains movies and shows for children. It features a Sports Page too, which is backed by Disney+Hotstar. PatchWall also ensures easy search of content in all its featured OTT apps. Once you find the content that you want to watch, you can simply click on it to start watching. You can also access educational videos and more. What's more, if you do not want your kid to watch content that is not meant for children, then you can put a passcode. Your child will need the passcode while exiting the Kids Mode.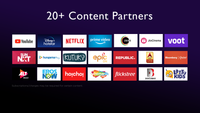 Content Partners
Thanks to its 20+ content partners, you can watch movies, animations, cartoons, and a host of other videos for as long as you want. Some of the content partners are Netflix, Jio Cinema, Zee5, YouTube, Disney+ Hotstar, and more.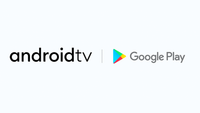 Android TV
It is powered by Android TV 9.0, which is why it ensures easy user-experience. You can thereby watch content and play games smoothly and without any hassle.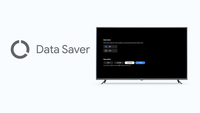 Google Data Saver
It comes with the Google Data Saver feature. It lets you use your phone's hotspot to access the features of this TV. You can even stream your favourite TV shows, movies, and other media from your phone on this TV.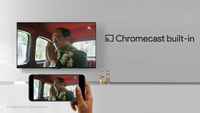 Chromecast Built-in
It is equipped with Chromecast Built-in, so you can cast videos and more on this TV. Once you cast your favourite content, you can enjoy them with your family and friends on the big screen of this TV.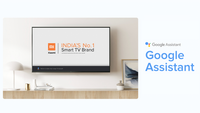 Google Assistant
It features Google Assistant. So, you can utilise the TV's features and more by using your voice. You can access this feature by pressing the button for Google Assistant on the TV's remote. You can use it to search content, control your smart home devices, and more.
Powerful Speakers
Good-quality sound and visuals can elevate the thrill of watching movies, TV shows, and more. This TV ensures the same. It comes with two speakers (20 W), Dolby Audio, and a DTS-HD decoder. So, it can deliver clear and audible sound.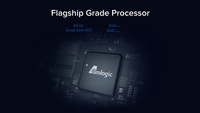 Performance
It has a high-performance delivering Amlogic Cortex A53 quad-core processor, which ensures that the TV operates smoothly. It also has 2 GB of RAM as well as 8 GB of internal storage. Also, it features the 7th generation imaging engine. As a result, you can experience minimal noise, high-quality pictures, and vibrant colours in every frame.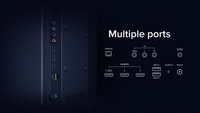 Connectivity
It features 3 HDMI ports, AV input, 2 USB ports, an Antenna input, and an Ethernet port. As a result, connecting the TV with various external devices will be effortless. It even comes with Bluetooth 4.2, so you can pair it with compatible devices. It can also be wirelessly connected via Wi-Fi.